IIPT Founder and President, Dr. Louis D'Amore is recipient of the 2019 Wharton MBA Emeritus Award. The award recognizes Wharton MBA graduates who have reached their 45th year since graduating who dedicate themselves to a better world.
Dr. D'Amore received the prestigious Wharton award for his work with the International Institute for Peace through Tourism (IIPT) which he founded in 1986 with a vision of making tourism the world's first global peace industry and the belief that 'every traveler is potentially an Ambassador for Peace.'
In 1988, the First Global Conference: Tourism – A Vital Force for Peace, organized and chaired by Dr. D'Amore was held in Vancouver, Canada. The Conference brought together 800 participants from 68 countries and is credited with launching the "Peace through Tourism Movement."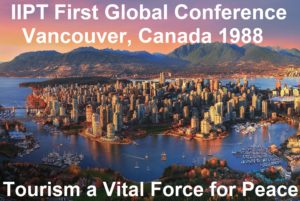 H.E. Vigdis Finnbogadottir, President of Iceland – the world's first elected woman Head of State, was Honorary Chair of the conference which featured video-taped messages from Pope John Paul II and U.S. President, Ronald Reagan in the Opening Ceremony and global leaders as keynote speakers.




The conference first introduced the concept of sustainable tourism, and at a time when most tourism was 'mass tourism' – the Vancouver Conference introduced a new paradigm for a "Higher Purpose of Tourism" – a paradigm that includes the key role of tourism in:




Promoting international understandingCollaboration among nationsProtecting the environment and preserving biodiversityEnhancing cultures and valuing heritageSustainable developmentPoverty Reduction, andHealing Wounds of Conflict.




This new paradigm, together with its related, social, economic, cultural, environmental, and political benefits became the scope and mission for IIPT in the years that followed the 1988 Vancouver conference.




Awareness to the key role of tourism in these areas was achieved by providing actual case studies of success stories demonstrating these contributions of tourism through some 20 international conferences and global summits in different regions of the world over the 30+ years since the Vancouver conference. These values of tourism were also introduced to future leaders of the industry through Educator Forums, Student Forums, and scholarships awarded based on outstanding inter-disciplinary research.




Persons associated with IIPT Conferences and Summits have included Heads of State, Royalty, Nobel Peace Laureates, Heads of UN and World Bank agencies, Heads of International Travel Organizations, Ministers of Tourism, senior leaders of the industry, NGO's and leading practitioners.




Awareness was also created through featured events at World Travel Market, the world's premier travel trade show, each year since 1999. Following 9/11 in 2001, the theme of the Opening Ceremony at World Travel Market was changed to 'Peace through Tourism' which paid tribute to IIPT.




More recently, featured events have also been held each year at ITB Berlin, the world's largest travel trade show. This annual event, organized by the IIPT India Chapter in partnership with ITB, is an IIPT Awards Ceremony: "Honoring Her" that recognize outstanding women in tourism, leading by example and empowering other women in the industry.




Global Peace Parks Project




To commemorate Canada's 125th Birthday as a nation in 1992,Dr. D'Amore conceived and implemented the "IIPT Peace Parks across Canada Project" resulting in 350 cities and towns from St. John's, Newfoundland – across five time zones to Victoria, British Columbia dedicating a park to peace. The Peace Parks were dedicated at noon local time, October 8th, as a National Peacekeeping Monument was being unveiled in Ottawa with 5,000 UN Peace Keepers passing in review. Each of the Peace Parks incorporated a 'Bosco Sacro' (Peace Grove) of 12 trees symbolic of Canada's 10 Provinces and 2 Territories; as a symbolic link with one another, and with nature; and as a symbol of hope for the future. Of the more than 25,000 projects commemorating Canada's 25th anniversary, Peace Parks Across Canada was said to be the most significant.




The Canada Peace Parks project served as a foundation for launching an IIPT Global Peace Parks Project on the 11th hour of the 11th day of the 11th month of the first year of the new Millennium at Bethany Beyond the Jordan – baptismal site of Christ – as a legacy of the IIPT Amman Global Summit.




There currently are more than 100 additional IIPT Peace Parks with at least one located on each of the world's seven continents except Antarctica. IIPT Peace Parks dedicated in the past few years have been located in: Pu'er Sun River National Park and Danzhai Wanda, China; Medellin, Colombia; Victoria Falls, Zambia; Blue Mountains of Sydney, Australia; Bucharest, Romania; Mandeville, Jamaica; Pietermaritzburg, South Africa; and the Harrisburg Peace Promenade and Chestnut Hill, PA in the U.S.




IIPT also has chapters in Australia, the Caribbean, India, Iran, Indian Ocean, Zambia, Pakistan and Malaysia, an Educators Network, International Community Tourism Network and a Student/Youth Leadership Network.

With the increased tensions between the U.S. and Iran these past two weeks Dr. D'Amore issued a statement urging leaders of Iran and the U.S. to re-visit the 2001 U.N. International Year for a Dialogue Among Civilizations. The year was the proposal of former President of Iran, Mohammad Khatami.



Twelve years ago, Dr. D'Amore had the opportunity to give an address to Iranian leaders in the Islamic Hall of the People in Tehran. He began his talk by noting that Iran is home to one of the world's oldest continuous civilizations, with historical and urban settlements dating back to 4000 BC. It is a land rich in history – rich in science and technology – the arts, literature and culture – a land where more than two-thirds of the population is under 25 – and therefore a land with a great future.




He also noted that in 1998, during the month of Ramadan, Iranian President Mohammad Khatami proposed to the UN General Assembly that 2001 be declared the UN International Year of Dialogue Among Civilizations – which in turn was adopted.




The proposal was based on President Khatami's genuine vision of constructing a more peaceful and just world order from an ethical perspective – a new paradigm based on empathy and compassion. President Khatami himself worked towards building interfaith dialogue and communication during the year. It is time for leaders of both countries to re-visit the to re-visit the 2001 U.N. International Year for a Dialogue Among Civilizations.




Students and others interested in taking a free on-line course on Peace through Tourism are invited to contact :

Reza Soltani at: soltani@peacetourism.org